Last August 21st, I was second shooting at a Biltmore wedding.  We were heading onto the lawn of the Biltmore house as the light was fading, a limo pulls up and out jumps a beautiful bride and handsome groom in full wedding regalia.  We watched wondering where their photographer was as they handed their camera to the driver. We wrapped up our shots waiting on the shuttle to pull around, our bride and the other photographer suggested I go over and take a few moments to capture the photographer-less couple.  I am so glad I did.  Sarahjean and Dajie are an amazing couple that I feel blessed to have met!  They had just married in her mother's hospital chapel after getting news two days earlier, while at home in Seattle that the doctor were saying 'this is it' for her mom.  They were planning to marry the next month in Italy as part of her mother's dying wish to visit and wanted to see her daughter marry there.
Sarahjean shared their story with me and my heart ached for the bittersweet joy they were feeling.  Giddy for being newlyweds, sad to know that the end was so near for her mother.  They were married on Saturday.  Thursday they got the call and immediately she went to pick up her (not quite finished) gown as Dajie went to purchase plane tickets.  She just wanted her mom to see her gown – didn't plan on a wedding in a day!  The couple flew out the following morning, with a text received during their flight change over, suggesting a wedding at the hospital chapel the next day.  Late Friday, they final got to her mother's room.
They got the only hotel room still available that evening and stayed there the first night, but for the rates being charged (and the funky 'wet dog smell') they decided to call the Inn at Biltmore to stay for the next night.  The Inn went above and beyond to make their time as special as they could.  They upgraded them to a junior suite and coordinated a car to get them to the house.  A family friend got a bouquet and boutineer for the couple and the Biltmore found her a hairdresser (even though everyone was booked).  They all got ready and met in the hospital chapel as 9 family and friends gathered to witness the wedding.  The wedding party descended to the cafeteria where there were the perfect number of gluten free cupcakes to cut and celebrate with.  After the big excitement, her mom needed to rest so the couple decided to go get one photo in front of the Biltmore house.
Which is where we met…  :)   Their day fell into place, as things that are meant to be often do.  So honored to have met and captured these two on their wedding day – and now a year later (plus a day!) on their anniversary, I'm happy to share their story and photos.  Their fairytale Italian wedding took place as planned on September 16th.  Sadly, her mom wasn't able to make it to Italy, but was able to see the photos and hear the stories afterwards.  She passed away on November 3 of that year.  Rest in peace Sananda.  You have an amazing daughter!!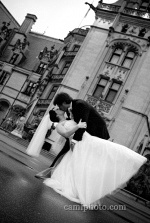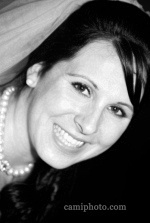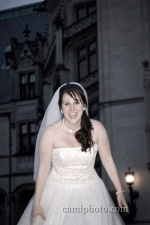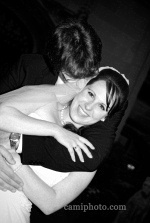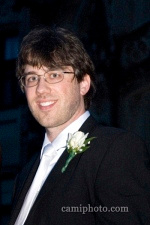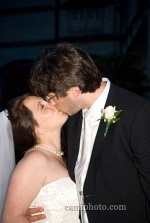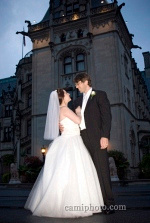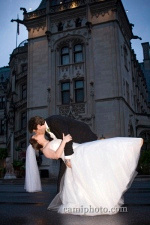 Congratulations and best wishes to Sarahjean and Dajie!  Happy to have been there at the right moment to capture such an important moment for you!!